Hope for New York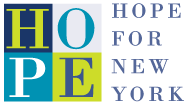 Hope for New York is Redeemer's partner for mercy and justice outreach to the city. HFNY provides volunteer and financial resources to more than 50 non-profit organizations serving poor or marginalized populations in New York City.
---
We partner with and seek to strengthen the work of more than 50 nonprofit organizations in New York City by mobilizing volunteers, providing grants to fund programs, and offering training and consulting. Our affiliates serve populations including at-risk youth, low-income families, vulnerable women and children, immigrants, the homeless, the elderly and those living with HIV/AIDS.
View a list of all our affiliates.

---
We offer hundreds of volunteer opportunities with our nonprofit affiliates nearly every day of the week, serving populations in need in neighborhoods across New York City. You can serve as an individual or with a group, with a one-time volunteer opportunity or in a committed volunteer role.
There are lots of ways you can get started:
Use our volunteer filter to search for opportunities by date, neighborhood, population served, and activity.
See our urgent volunteer needs to find out where you're needed most this week or this month.
Contact our volunteer managers at [email protected] We'd love to hear from you.